Custom Countertops in Kissimmee Florida
When you decide to upgrade your cooking space with new materials and decor, a professional kitchen remodeling contractor can be of assistance. Kissimmee Granite & Marble would like to be your go-to source for all services related to kitchen renovations. Our locally owned and operated business works with homeowners and businesses throughout Orlando, FL, and you can count on us for outstanding support and attention to detail.
Our kitchen remodeling crew is dedicated to customer satisfaction, so you won't have to worry about unfinished work, shoddy craftsmanship, or property damage when we're on the job. Renovating your kitchen can be a stressful task, but our contractors have the training and experience to handle the project without a hitch. We'll transform the look and feel of your kitchen when you hire us to perform:
Granite countertop installations
Marble countertop design services
Kitchen redesigns and remodeling
At Kissimmee Granite & Marble, we strive to provide impeccable services for all of our clients in the Greater Orlando region.  Contact us today to discover how our kitchen remodeling team can be of help. We pride ourselves on delivering excellent results, and we use premium materials for every job.
Se Habla Español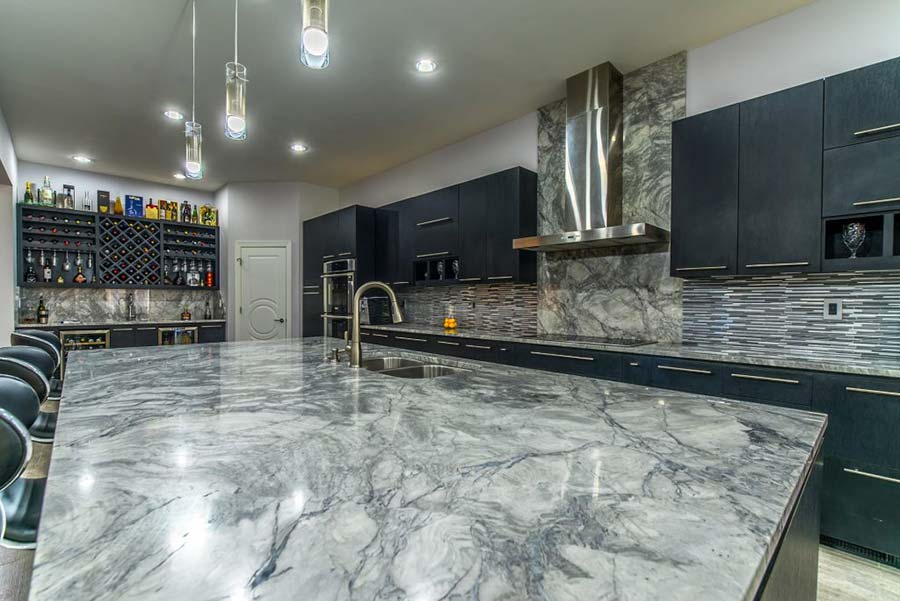 Kitchen Countertops
A large portion of our projects involve kitchen countertops and kitchen remodeling.  We've been fabricating and installing countertops for over 30 years.  As expert craftsmen we work with every countertop material including granite, marble quartzite, quartz, and porcelain.  We pride ourselves on making sure our clients are happy with our finish work but also that they have a large selection of materials, finishes and designs to choose from.  A kitchen countertop is a personal decision that can make a huge impact on the look and feel of a home.
We offer a variety of install designs, countertop finishes like matte, leathered, polished and more and wide variety of edges.  Most importantly is that we have access to wide variety of price points so we can keep within any budget from high end custom homes to multifamily apartments.  Please contact us for a free estimate on any kitchen countertop project.
Kissimmee Granite & Marble serves the greater Orlando Florida region since 2002.  We've installed over 1,000 countertops and we are experts in design, fabrication, and installation.    Our team of dedicated and professional designers and installers are here to make your project a great success.  Choose from Quartz, Granite, Marble and Quartzite countertops along with a great selection of materials for kitchens, bathrooms, laundry, and more.
Custom Countertops
Kissimmee Granite and Marble specializes in custom and semi-custom countertops.  We can help you design, fabricate and install countertops for any room in your home.  We make our countertops with materials like Marble, Quartzite, Granite and Quartz.
We can work with you, your designer or contractor to create a beautiful countertop.